Jump to section:
When is the best time for a snowbird to ship a vehicle south?
Planning and preparation
What else to know
Conclusion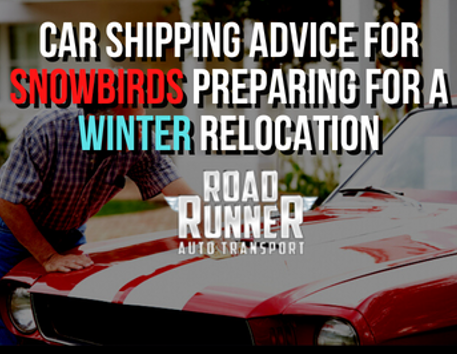 When is the best time for a snowbird to ship a vehicle south?

"Snowbird" is a term for someone from northern states such as New York who relocates to warmer climates during winter months. Many snowbirds relocate to Florida over the winter although some may relocate to California, Arizona, Hawaii or other year-round warm climates. A considerable number of snowbirds are at or near retirement age which is what allows them to relocate for several months each year. However, snowbirds can include anyone with the latitude to relocate each winter including those who work remotely.

Regardless of a snowbird's background, their winter excursion will always be made easier and a bit cheaper by shipping their vehicle to and from their winter homes. Doing so will spare them the inconvenience of being without a car while saving them the exorbitant expense of renting a car for several straight months. If you are a snowbird or think you might be one in the near future, the idea of having your car transported likely has crossed your mind. The top question you might have is "When should I ship my car exactly?"

Well, "snowbird season" typically runs from October through April although everyone is different. The important thing to take note of is that October is the busiest month of car shipping along snowbird routes going towards warmer climates , and that April is the busiest month of car shipping along snowbird routes going away from warmer climates. What this means is that during those months, it could be a bit more difficult to find an available spot on a carrier and it could cost slightly more if you book your shipment too late. So, you could consider shipping your vehicle to your warmer climate location in late September or early November. Conversely, when you are shipping your car home, consider late March or early May. However, you can book your shipment for any date without having to worry as long as you plan properly.

Planning and preparation

The planning and preparation are the two most important parts for any individual shipping their vehicle. The rest of the process will be entirely handled by your auto transport company. Thus, it is critically important to the smooth success of your shipment that you get these things right. As we mentioned above, correctly planning ahead and booking your shipment early will help ensure you the shipping dates you require and can also help you save some money in the process.

As a rule of thumb, try to book your shipment at least four weeks in advance of the pickup date you prefer. If you can book as far out as eight weeks, that is even better. Booking much earlier than that typically will not offer much additional benefit. Planning will also include ensuring that you are available to give the keys over to your transport driver and to sign the bill of lading upon pickup. You will also need to be available to receive the keys and car upon delivery. You will likely also need to have someone else on standby to help you with this because your vehicle pickup and delivery will both occur at some point in predetermined separate two-to-three-day periods. An exact time of pickup and/or delivery cannot be given by any car shipper because of things like traffic and weather delays.

The preparation for your vehicle transport consists of two simple tasks. Ensuring the exterior of the car that you are shipping is clean as well as removing all your personal stuff from the car. The outside of your vehicle must be clean so that the inspection your auto transport driver performs for damage that existed prior to shipping can go quickly and smoothly. Taking all personal items out of the vehicle is a necessity because they will not be covered by the vehicle transport insurance policy if they are damaged or lost in transit, as they are not a part of the car itself.

What else to know

Many snowbirds ask if they can ship some of their luggage in their vehicle when they ship it. Some car shippers might allow this, but it is generally not allowed. It is also not the best decision even if you are allowed because if anything in your luggage gets damaged, you will be solely responsible for the full cost.

When you are booking your shipment, you will also have a few options to choose from. This will include top-loading and enclosed transport. Top-loading is an option on regular car carriers as well as some enclosed carriers. When you decide to go with this option, your vehicle will be placed on the top deck of the two decks on the carrier. On a typical car carrier, advantages of top-loading will include no possibility of a car above yours leaking something on it and small road debris like tiny rocks cannot kick up that high off of the road and scratch your vehicle.

An enclosed carrier typically only has one deck of cars but also has walls and a roof. So, an enclosed carrier will give you all the advantages of top-loading plus it will protect your car from things like birds overhead and weather elements such as rain and/or powerful UV rays corroding your paint. Choosing to ship with either top-loading or in an enclosed carrier will cost an additional few hundred dollars.
Conclusion

If you are relocating for the winter, you probably will not want to drive across several states or the entire country to do so. You will also want to avoid the hefty cost of renting a car for several months or the inconvenience of being without a car at all. Shipping your car to your warm winter home will solve all of these issues for you with ease. Always try and book your vehicle shipment at least four weeks ahead of the date you need your car picked up. If you are trying to ship during a busier snowbird vehicle shipping period such as October or April, you might want to try booking six to eight weeks ahead. Doing so might also save you a few bucks.