Jump to section:
Why are there different options?
Enclosed shipping
Top-loading
Specialty shipping
Conclusion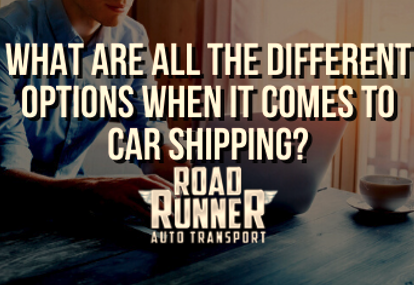 Why are there different options?

When you decide to book your car shipment, you will notice that there are several additional shipping options available to choose from. These options will include enclosed shipping, top-loading, as well as specialty options. Each one of these has its own unique purpose and advantages. If you do choose to ship using any of these options, it will likely cost you a bit extra because all these options are equivalent to upgraded shipping.

So, it is similar to choosing to ship a regular package through first-class mail where your overall shipping cost will be a bit higher because you chose an upgraded shipping option. If one of your primary objectives is to save money on your vehicle shipment, then you should forego these extra options and choose to ship on a typical open-air car carrier.

Enclosed Shipping

Enclosed car shipping is when you choose to ship on a car carrier that has walls and a roof. Typical open-air car carriers do not have walls and roofs. The advantage is that inclement weather such as rain and snow will not make contact with your vehicle during transport in an enclosed carrier. An enclosed carrier will also completely protect your car from the possibility of small road debris such as pebbles kicking up from the road and making contact with your car. Although, the odds of that occurring are extremely rare.

Typically, only owners of high-end luxury cars end up choosing enclosed carriers. They do so primarily for protection from weather elements as they would normally not drive these cars in the rain or snow. These types of cars can include Bentleys and Lamborghinis, although any car can be shipped via an enclosed carrier.

Top-loading

Top-loading is an option that you can upgrade to for a typical open-air shipment or some enclosed shipments. It is when you choose to have your car placed on the top deck of the auto carrier. This may not always be an option on an enclosed carrier due to the fact that some enclosed carriers may only have one deck of cars.

Regardless, the advantage of top-loading is that there will not be any cars directly above your car. When your car is on the lower deck of an auto carrier and directly underneath another vehicle, there is a very slight chance that the car above could leak fluid during the shipment. Thus, the option for top-loading is offered for a slight additional fee even though the possibility of that occurring is extremely small.

Specialty shipping

Specialty vehicle shipping will include several things. Motorcycle shipping, inoperable car shipping and oversized vehicle shipping are the three most common forms of specialty vehicle shipping. However, you can ship pretty much any type of vehicle with a car shipping company like RoadRunner. You can ship a boat, a moped, a recreational vehicle, a trailer, construction equipment and much more. If you are unsure if you will be able to ship something, you can always give your auto transporter a call and ask if it's possible.

Much like the other additional/non-traditional car shipping options such as enclosed shipping, specialty shipping will also cost a bit more. The types of vehicle carriers that need to be used are in much smaller supply and can often only transport one vehicle during each shipment (if it is a flatbed carrier, for example). Thus, the price will be higher. That price will definitely be worth it because the cost, stress and time it will consume moving or driving a specialty vehicle a long distance yourself will be considerably higher.

Conclusion

Having various options when it comes time to book your car shipment allows you to ship almost any type of vehicle that you can think of. It will also allow you to gain a little more control of how your car is shipped as well as to pay a bit extra for increased precautions. You can think of options such as enclosed shipping and top-loading like choosing to park your car with the valet at a fancy restaurant rather than parking in the normal lot. It likely is not necessary but it will give you better peace of mind at the least.