Jump to section:
The cost of shipping a car versus getting it towed
The notice needed for each
Tips for success when shipping your car
Conclusion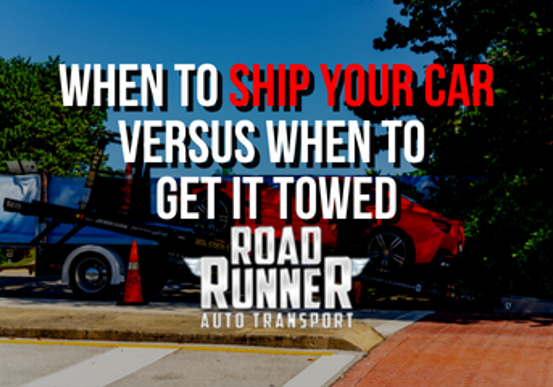 The cost of shipping a car versus getting it towed

One of the biggest factors to consider when transporting a car will be the overall price of doing so. You will likely want to save as much as possible while still receiving the highest quality service. Comparison shopping and planning will definitely help you procure such a transport service for your vehicle. However, you still might consider the general cost of shipping a car versus getting it towed.

Generally, if you are transporting a car over one or two dozen miles and you can plan ahead, the cheapest option will be to ship with an auto transport company. Getting a vehicle towed is only a good option when you are in a jam and need your vehicle moved immediately like when it has broken down as you were driving it. Although, if you have a car that is not operable, and you do not need it moved immediately, almost all car shipping companies can still ship that vehicle.

The reasons that shipping a car is usually cheaper than towing it the same distance are both demand and availability. When you ship your car, it will typically be shipped with about six to ten other vehicles. As a result, the cost of shipping is divided between multiple customers, thus you will see some savings. Also, when you book your car shipment in advance at least two weeks, the availability of a carrier will be much greater than a tow truck that you are calling to pick up your car the same day.

The notice needed for each

You can ship your car with an auto transport company as you long as you give at least a week or two of notice before the date you need the vehicle picked up. Although, it is recommended that you give four weeks' notice when dealing with an auto transport company in order to get your preferred pickup and delivery times as well as to save some additional money.

Towing companies will always be able to come pick your car up with little to no notice, but the price will be through the roof. If you call the day of to have your car transported with a local towing company, the cost can easily run three or four times what it can you just given a car shipping company a couple of weeks' notice.
Tips for success when shipping your car

Beyond comparison shopping and giving the auto transport company that you choose several weeks' notice , there are a few more things you can do to both save on your vehicle shipment and make it go as smoothly as possible. This will include the proper preparation, the time of the year that you ship and more.

As far as the preparation for your vehicle shipment goes, there will be just a couple of simple yet necessary steps to take. The first will be to go through your vehicle carefully and remove any personal belongings like phone chargers, jewelry, gloves, etc . These types of things will unfortunately not be covered by the auto transport insurance in the extremely rare case that they are lost or damaged during shipping. It is also highly recommended that you get your car washed a day or two prior to the start of your scheduled pickup window. Doing so will allow you r auto transport driver to easily and quickly check the exterior of your car for damage that the car already has incurred. If it is dirty, this will take much longer and prevent your shipment from getting on the road as quickly as possible.

You should also consider shipping your car during less busy times of the year if at all possible. Doing so will possibly help you save money as well as potentially have a shorter overall transit time. Finally, do your best to free up your schedule so you can be available during your pickup and drop off windows. You will have to be around to exchange the vehicle's keys as well as to sign the bill of lading. These periods will typically be two to three days at a time so plan ahead and have someone you trust available to wait in your place just in case. They must be at least eighteen and have a valid driver's license with them.

Conclusion

If you need a car transported more than a few miles, it really makes much more sense to ship it rather than get it towed. Overall, shipping will save you some money in most scenarios. If you do decide to have your car shipped with an auto transport company, be sure to give them at least a weeks ' notice. Ideally, you should give them between two and four weeks ' notice in order to have the best opportunity of getting your preferred pickup and drop off windows. In the end, towing is only the better choice in a situation when something goes wrong with your vehicle, it cannot be driven, and it must be transported immediately. If you need a car shipped any distance whether it is running or not, you can always rely on RoadRunner Auto Transport. You can get a free quote by clicking here or by calling us at 888-777-2123!