Jump to section:
The factors that determine the price of car shipping
What you can do prior to booking to get cheap car shipping
What you can do at booking to secure the cheapest auto transport
Conclusion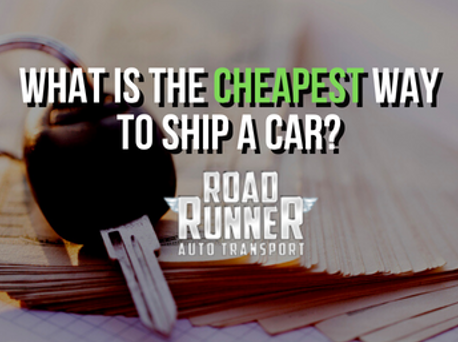 The factors that determine the price of car shipping

One of the first questions that typically gets asked by someone who is shipping their car is "What is the cheapest way I can ship my car?" It is a bit of a complex question to answer but first, we should redefine the question. A better phrased question would be "How can I save the most money while shipping my car and still get excellent service?"

If you were dry cleaning a very important and expensive suit or dress, would your only concern be "What is my absolute cheapest option?" and not worry about the experience of the dry cleaner nor the quality of service? Likely not. You would want to ensure that your suit or dress was properly dry cleaned without being damaged. However, it's not out of the ordinary to want the proper service while saving as much as possible. You should look at shipping a vehicle in the very same way. If you are comparison shopping for your auto transport needs, you should be a bit suspicious of any prices that are much lower than all other providers. Often these companies that undercut others are able to do so by sacrificing service quality and/or by using an inexperienced transport driver.

When it comes down to the determination of the price for a particular vehicle transport, there are multiple things influencing the price all at once. These are the physical distance of the shipment, what time of year that you are shipping, what type of vehicle that you are shipping and the specific method of transport that you choose.

What you can do prior to booking to get cheap car shipping

Planning your shipment well ahead of time will go a long way in terms of ending up with a cheap vehicle transport. First, if it is possible, you should avoid shipping your car during the busiest auto transport times of the year. Consider the simple concept of supply and demand. When demand is high, supply is lower than it normally is. Thus, the price increases. With auto transport, the busiest shipping times during the year tend to be from April through the middle of September. January is also typically busy because of the post-holiday rush being combined with a high demand for college car shipping. This means that demand tends to be at its lowest during the fall. February is usually also a particularly slow month for vehicle transporters. November and December can be hard to predict due to the holidays. So, the best months to schedule your shipment for are definitely October, February and March.

On top of planning to ship during a much less busy month of the year, you can also plan to officially book your shipment at least two months ahead. Car shipping rates tend to increase as you book closer to the date that you need to ship your vehicle. This is due again to the supply of availability decreasing. Once that happens, shippers can increase prices as they know remaining spaces on carriers will be taken by someone who will pay almost any price. If you can book further ahead than two months that will work as well.

You also must figure out how you are transporting any personal items, furniture or luggage ahead of time. The vast majority of auto transport companies will not allow you to ship personal goods in your car or trunk under any circumstance. Although some might tell you it is up to your driver. If that is the case and the driver happens to allow it, they will definitely charge you what they call a "step-up" fee. This will likely be at least fifty if not a hundred dollars or more. All so you can put two or three things in the trunk. Save yourself the money and uncertainty and ship these things through the mail or with a moving company.

Lastly, ensure that your vehicle is operational and completely ready to be driven. This is so that when the time comes for it to be shipped, it can easily be driven on and off the car carrier truck. If it is not, you risk having to ship your car as an inoperable vehicle which means a special car carrier truck will be needed which has a winch that can physically attach to and pull your car onto the carrier. This will cost you several hundred additional dollars.

What you can do at booking to secure the cheapest auto transport

When you have selected a vehicle transportation company such as RoadRunner Auto Transport and you are ready to officially book your shipment, you can definitely save money during this part of the process. This is because you can elect to skip upgraded shipping options including enclosed car shipping and top loading. Almost all upgraded shipping options will tack on at least a hundred dollars to your shipment if not several hundred dollars.

You can sometimes choose to have extended pickup and/or delivery windows as well. Delivery windows are usually ranges of two to three days where your car will be picked up or delivered. If you give a car shipper flexibility with this, you can sometimes end up saving a few dollars.

You can also save money on your shipment at booking by booking the shipment of two or more cars at once. We know that this usually is not the case but there are occurrences where a couple or family is moving, and one of the two adults is staying behind to finish time with a job or for another reason. If that family transports both vehicles in the same shipment, they will save themselves hundreds of dollars in the process. Finally, if you have a choice between cars that you can ship, you should always choose to ship the smaller or more compact vehicle. Larger cars weigh more so they cause the car carrier truck to burn more fuel. Larger cars also take up more space which means with a certain amount of them in one shipment, the carrier can lose one or more spaces. Thus, they need to make up the lost money by charging a bit more for each vehicle over a certain size threshold.

Conclusion

There are more than a half dozen ways for you to save on your car shipment. They are all pretty simple yet when combined can help you save several hundred dollars on your shipment. Be smart and plan ahead so you can avoid shipping during busy season if possible and so that you can book your shipment two months ahead of your pickup date. Skip any upgraded shipping options and be sure that your car will be running correctly when the time comes for it to be picked up by your auto transport driver. Regardless of your specific future car shipping needs, you can always "kick the tires" with a free instant quote by filling out the form on our homepage!