Jump to section:
Shipping your car to Daytona, Florida
How long will it take to ship my car to the Turkey Run?
How to prepare for your Daytona car shipment
Car shipping tips
Conclusion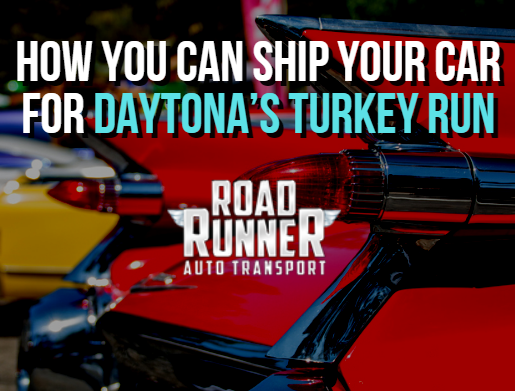 Shipping your car to Daytona, Florida

The "Turkey Run" is a biannual car show that occurs twice a year in Daytona Beach, Florida. The event includes the collector car show, "Turkey Run Nites" which is a night car show right in front of Daytona Speedway, a car corral, a swap meet and more. The car corral is where sellers can display vehicles they are selling and those in attendance will have the chance to buy or even trade for one of the vehicles on display. People also frequently trade parts and accessories at the swap meet. Daytona's Turkey Run is the largest combined car show and swap meet in all the United States. Each year it is typically held during the weekend immediately following Thanksgiving and during the fourth weekend in March. Next year, 2024 will mark fifty years of Daytona's Turkey Run which was first held back in 1974.

People attend the Turkey Run from all over the country and world. Thus, many people who are going to attend the show end up shipping their cars and taking a flight there. Not only is this a more time efficient and comfortable option, but it is also a safer and better option for the vehicle itself. If you have the ability to drive the car several hundred or thousand miles, why put all that extra mileage on it? If this is a car you intend to sell at the Turkey Run, that is the last thing you would want to do. In addition, when you drive long distances on highways and interstates you really risk scratches, dings, dents and chips occurring on your vehicle's exterior. Again, whether you are just showing your car off or intend to try and sell it at the Turkey Run, you definitely don't want any fresh damage occurring on the trip there.

That is why we recommend shipping your car to Daytona's Turkey Run in an enclosed carrier. When you ship a valuable vehicle in an enclosed car carrier it will be protected from weather elements as well as any road debris. An enclosed car carrier trailer has walls and a roof so no outside elements can make contact with your vehicle.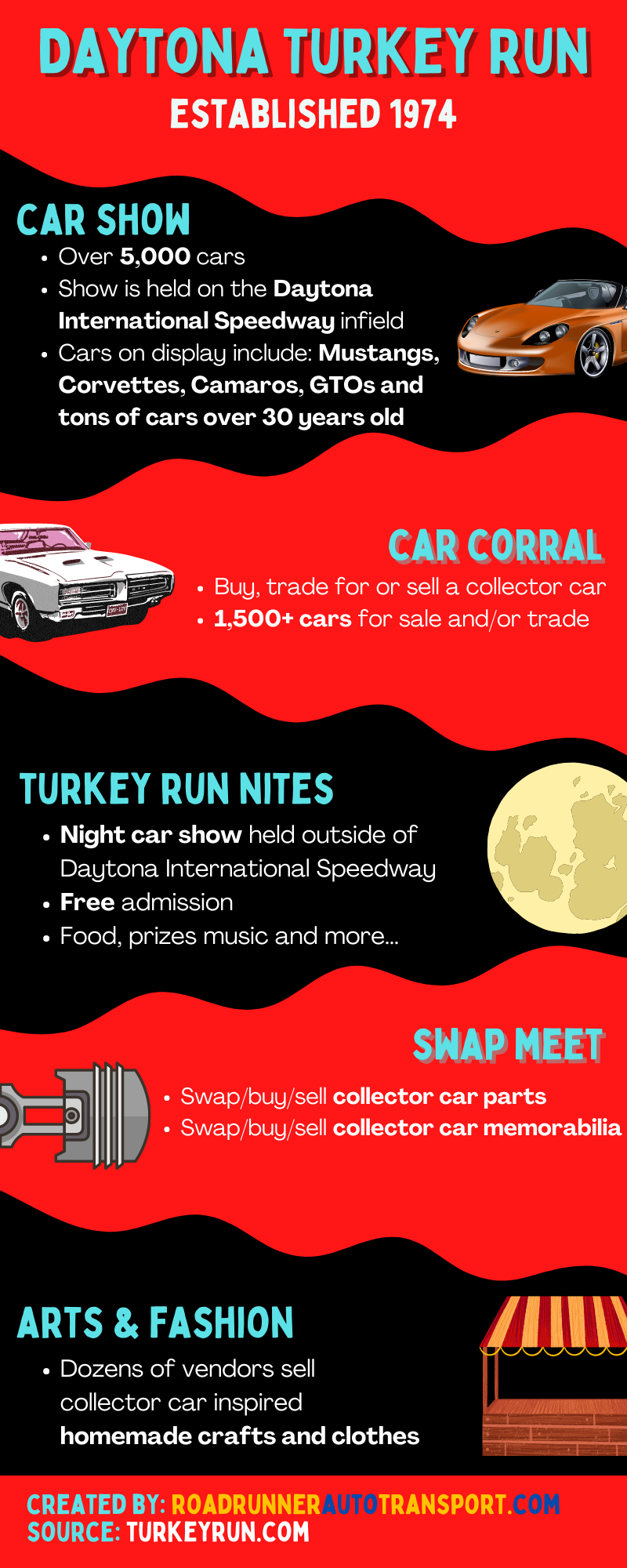 How long will it take to ship my car to the Turkey Run?

Your biggest question likely is "How long will it take to ship my car to the Turkey Run?" Well, that is dependent on several things. The distance between the pickup location and Daytona Beach, how far in advance you book your car shipment and weather/traffic along the transit route will all play important roles in your shipment's overall duration. We constructed the following table with origin points in major US cities to give you an idea what your transit time might be. Each estimated shipping duration was generated through our quote form using a 1990 Chevrolet Corvette with four weeks advance notice of the shipment:


| Origin Location | Estimated Shipping Time to Daytona |
| --- | --- |
| Houston, Texas | 3 – 5 Days |
| New York, New York | 3 – 5 Days |
| Los Angeles, California | 7 – 9 Days |
| Nashville, Tennessee | 2 – 4 Days |
| Chicago, Illinois | 3 – 5 Days |
The reason that you get a range of days rather than an exact date is because of the impossible to predict factors such as weather and traffic. This is why legitimate car shipping companies cannot guarantee an exact drop-off date. Rather, they will give you a delivery window of two to three days. When it comes to the Turkey Run, we suggest ensuring that your delivery window ends before the Turkey Run festivities begin. You could even plan a bit of an extended vacation in Daytona Beach which has no shortage of great restaurants, beaches, boat tours and even an awesome hot rod museum.
How much will it cost to ship my car to the Turkey Run?

The overall cost to ship a vehicle to Daytona Beach's Turkey Run is similar to the transit time when you ship a car because it will be dependent on several variables. The further you are shipping your car the more it will cost because it requires more labor, time and fuel to ship a car a longer distance than it does a shorter distance. How you choose to ship your vehicle also makes a difference. When you are booking your car shipment, you will be given several options:

Open air car shipping – This type of car shipping will always be your cheapest option. Your vehicle will ship on a car carrier with two decks and five to nine other cars per shipment. There is no roof and are no walls but the instance of damage occurring during these shipments is extremely rare.
Enclosed car shipping – This is the type of auto transport that occurs on a carrier with walls and a roof. There are usually fewer cars in these shipments but that is not always the case. Enclosed car shipping will add a few hundred dollars to your final cost.
Top-loading – Top-loading is when you choose to have your car placed on the top deck of an auto carrier instead of the bottom. The reason people sometime select this is out of fear that cars above theirs could leak fluid or oil onto their car. This option will add about a hundred dollars to your final cost.

Finally, how close to the day of your preferred pickup date that you book your shipment will likely impact price a bit. If you only book your shipment one or two weeks ahead of your preferred pickup date, you could end up paying a bit extra because spaces on the carriers could be limited and that's when simple supply and demand sets in. We recommend scheduling your vehicle shipment at least four weeks in advance to avoid paying more than you need to.

How to prepare for your Daytona car shipment

Preparing to ship your car in an enclosed trailer versus on an open-air carrier is really not different at all. You will still need to get the exterior of the car cleaned and take all your personal items out. Both tasks are as simple and easy as they seem. The exterior of your car must be clean because the auto transport driver will need to conduct an inspection for preexisting damage. Your personal items like a watch, phone charger, glasses etc. must be removed because they are not covered by the car shipping insurance thus, they will not be covered in the event they are lost or damaged while the vehicle is in transit.

Another important part of your preparation will be to ensure that you are not booking your shipment too late either. You definitely want to be sure that your car will be arriving in Daytona Beach before the Turkey Run begins. So, we recommend that you start thinking about your shipment now, and book as soon as you can. As we mentioned, you should give a car shipper at least four weeks' notice. With a potential for a one-to-two-week transit time, that means you should not book your shipment much later than the middle of February if you are attending the March Turkey Run.

Car shipping tips

If you are staying in a hotel while you are down in Daytona Beach, the car carrier might not be able to drop your car off at or in front of the hotel because of either space and/or local ordinances. So, you will need to mention this when you are booking your shipment. The car shipping representative that you are talking with over the phone will be able to work this out and arrange a nearby meeting place such as a mall parking lot where your car will be able to be dropped off without issue.

In terms of saving some money on your shipment, the sooner you book your shipment the better you will fare in terms of overall cost. You can also consider shipping on an open-air car carrier rather than in an enclosed carrier.

On top of removing all personal items, you should also remove any loose/detachable parts that are not part of the original vehicle. This can include but is not limited to roof racks, hub caps, spoilers etc. If you have specific questions about this, be sure to ask your car shipping representative when you are booking your shipment.

Finally, if you know you are just taking your car to the Turkey Run to display it rather than sell or trade it, you will need to get your car home too. This means you will likely want to consider shipping it back home as well. This will not be any different than shipping your car to Daytona Beach. You should give your auto transport company several weeks' notice and you will need to have your car prepared the same way as well. We recommend discussing the return shipment with your car shipping representative when you are booking your initial shipment to Daytona beach.



Conclusion

Daytona's Turkey Run is an extremely popular car show and swap meet that has been occurring twice annually for almost fifty years. It is a great opportunity to see some incredible classic cars and cars that have great customizations and modifications. It is also a great chance to buy a vehicle or swap parts/accessories. The upcoming Turkey Run will be held in Daytona on March 24 – 26, 2023. If you are planning to attend and participate and would like to have your vehicle shipped there, call us today at (888) 777-2123 for a free quote or with any questions!