Jump to section:
Ask for the CARFAX
Pre-purchase Car Inspection services
How to ship the car after you have purchased it
Conclusion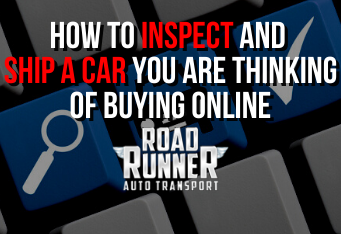 Ask for the CARFAX

If you are considering buying a car that has piqued your interest online, you will still need to make sure that it is not a lemon prior to officially purchasing the vehicle. This means you will need to ensure that the car runs correctly, does not have a bad history of accidents and that there are no other issues being concealed by the seller. The first step in doing so will be to "check the CARFAX."

You should go directly to CARFAX's website and purchase a copy of the CARFAX for that vehicle. Each report will cost about forty dollars, so make sure that you are definitely interested in buying that particular car. However, there are deals where you can get three reports for three separate vehicles for only sixty dollars which is useful if you are interested in multiple cars at once. Either way, you will need either the VIN (vehicle identification number) or the license plate number. If the seller will not give you this information, move on as they are trying to conceal something wrong with the car.

The CARFAX report will provide you with a litany of information about a vehicle including but not limited to an accident report, service history, mileage report, recall info, warranty info and much more. This will not substitute checking out the car in person , but it will be more than enough when combined with an in-person inspection to make an informed decision. But what happens if the car is out of state, and you cannot make the trip to inspect it yourself? Thankfully, you can hire someone to do it for you.

Pre-purchase car inspection services

Once you have carefully gone through the CARFAX report, your next step really should be seeing the car in person . The issue is that if the car is several hundred or thousand miles away, you will have to travel a long way to do this. That will be quite costly as well as time consuming. So, in that case you should really consider hiring someone to conduct a pre-purchase car inspection.

A pre-purchase car inspection is when you hire someone to go inspect a vehicle for you. You should go through a service rather than going through an individual on Craigslist or something like that. A service such as Lemon Squad will provide a thorough inspection of a vehicle in almost all locations in the country. The inspection will include a complete exterior check, interior check, engine check and vehicle function check. The standard inspection costs approximately one hundred and eighty dollars .

Again, the person selling the vehicle will need to agree to allow this inspection in its entirety which will include having the inspector get into the vehicle and run the engine. If the seller says they do not want this to occur, then you can be nearly sure they are trying to hide something. If they are trying to get rid of the car, why be so protective and private?

How to ship the car after you have purchased it

Once you have done your due diligence and purchased a car, you will then need to get it home. You could take a flight and then drive the car home but that will be costly, time consuming and very stressful. Thankfully you will be able to ship your car home to your front door with extreme ease.

The car shipping process with a company like RoadRunner Auto Transport has three primary stages: planning/booking, preparation and pickup/delivery. The amount of effort you will need to put into each part of the process will be minimal.

In the planning and booking stage, you will obviously begin with planning. You should begin by knowing which dates you want your new car picked up and delivered. When it comes to these dates with regards to your shipment, exact dates can never be guaranteed. Instead, you will select a two-to three-day window during which your vehicle will be picked up for transport. The reason for this is that due to the volume of traffic, weather, and other potential delays, guaranteeing pickup and/or delivery on one specific day is not possible. After that, you should make note of the vehicle make, model and year. Once you have done all of this, you can go ahead and book your shipment.

At this point, you will wait until a day or two before your pickup window begins and then you can start the preparation. In order to properly prepare for your car shipment, you should start by removing any valuables and personal items from the vehicle such as sunglasses, gloves or CDs. Doing this is necessary because these items are not covered by the car shipping insurance in the rare instance that they are lost or damaged in transit. Next, you will want to make sure that your car's exterior is completely clean because of the visual inspection that will take place upon pickup. The visual inspection is when your auto transport driver will check the outside of your vehicle for preexisting damage for insurance purposes. If your car is dirty, this will take up much more of your time and delay your shipment from getting on the road.

Pickup and delivery are even easier than planning or preparation. You will just need to ensure that you are available during the pickup and delivery windows at the agreed upon addresses of pickup/delivery with a valid form of identification. For pickup, you will also need to make sure that you have your keys with you to give over to the auto transport driver.

Conclusion

Buying a car that you purchase online will be a bit more involved than you might initially think. However, shipping it will not be. By shipping it instead of picking it up yourself you will be saving the time, energy and money that you would have otherwise spent making that trip. As far as shipping your car, you will just need to worry about planning/booking, preparation and pickup/delivery. However, your primary focus in this process should be on checking out and inspecting the prospective vehicle to make sure there are no issues. That will include checking the CARFAX report as well as hiring someone to do an in-person and thorough inspection.