Jump to section:
Hiring a driver service
Driving your car yourself
Shipping your car
Conclusion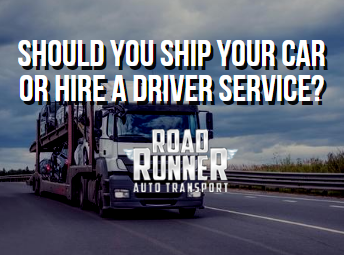 Hiring a driver service

If you need your car moved a long distance and you do not want to drive it yourself, one of your options will be to hire a driver service. A driver service is where you hire someone from a long-distance driving service to drive your car a long distance without you. This can be useful during a move or an extended trip because it will allow you to fly or take a train to your destination and still have your very own car when you arrive (shipping your car also affords you this luxury).

The main advantage of using a professional driver service to transport your car during a trip or move is that you will be able to pack however much luggage in the car so long as it does not impede the driver's ability to safely drive your vehicle. Other options for transporting your car may not allow this. Using a service like this could possibly also have a slightly lower transit time but there are no guarantees when it comes to transit times because of unpredictable factors like traffic and inclement weather.

Unfortunately, when it comes to having your car transported during a long trip, the negatives outweigh the positives when it comes to professional driver services. A professional driver service will cost much more than your other options. In fact, it will likely cost several hundred dollars more than any other option. On top of that you may also incur charges for the driver's food and lodging depending on the overall length of the trip. You also will have to accept the mileage, depreciation and overall wear and tear that your car will incur from a very long trip. Finally, a driving service may take quite a long time to find a driver for your car if the trip is particularly long. They can also choose to flat out reject you on this basis.

Driving your car yourself

You obviously also have the option of driving your car yourself during a trip or a move. Doing so can save you some money but likely not as much as you think. When you factor in the high cost of gas, the depreciation of your vehicle, food and/or lodging for yourself as well as the opportunity cost of taking time off from work, it might only save you two or three hundred dollars to drive your car on your own. When you couple that with the stress and exhaustion of driving hundreds or thousands of miles, you may want to reconsider your decision to shoulder this responsibility all on your own.

Another thing to consider is the increased chance of getting into an accident when you drive your car on your own. Most people are not used to driving long distances, especially very long ones. You can easily become fatigued when driving more than a couple of hours straight. This greatly increases your chance of an accident because your focus on the road decreases as does your reaction time. The benefit of possibly saving a couple hundred dollars is not worth the risk of injury to yourself and your passengers as well as the risk of serious damage to your vehicle.

Shipping your car

Shipping your car when you need it transported a long distance will always be your best option. You will barely have to do anything including not having to drive several hundred miles for hours on end. Your shipment will be booked in a very timely fashion. It will be the most cost-effective option because car shippers are able to keep costs lower by shipping multiple cars in one shipment. Your car will also not have even one mile put on the odometer. Car shipping also puts your vehicle at absolute minimum risk of being in an accident which not only protects your vehicle, but it keeps you out of harm's way as well.

Conclusion

You will have a few options to choose from in terms of getting your car from point A to B when you move or take an extended trip. You can hire a driving service, drive your car yourself or ship your car with an auto transport company. Each option has some positive aspects but the negative aspects of hiring a driver service or driving your car yourself tend to easily outweigh the positive. Car shipping will always be your safest, most cost effective and efficient bet.