When you are shipping your car, there are a few things you should remember to do and a few things that you should remember to avoid doing. This comprehensive guide will detail each and every one of these things so that you do not make any easily avoidable mistakes during the car shipping process.


Jump to section:
Car shipping 101
Car shipping do's
Car shipping don'ts
Final word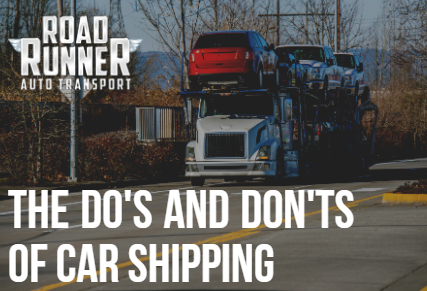 Car shipping 101
Shipping your car is actually a very easy process. Some people mistakenly think that it is much more complex than it actually is. It really boils down to finding a company that you think can meet your auto transport needs, getting a free quote, booking your shipment, and then preparing for your car to be picked up.

Finding a company that you think can ship your car from your location to your destination is as easy as Googling "(state) to (state) car shipping" For example, if you Google "New York to Florida car shipping" you will find a bunch of relevant companies that will have pages on their websites dedicated to that specific route. Once you visit a company's site, you should be able to get an instant quote so long as they are a reputable company. This is where the specific addresses of your pickup and destination points will come in. You will just need to enter your address details, the details regarding your car such as the make & model as well as when you want to have your car shipped.

After that point you will receive the estimated price of your potential shipment, the dates of shipping that are available, and an estimation of the duration of your shipment. If you think that these details work for you, you will find an option to book your shipment on the same page that your quote is displayed on. You can also call the particular company whose website you are on at that point and talk to a live representative regarding booking your shipment.

Once you book your car shipment, you will need to do a bit of preparation for your shipment. A few days before your shipment, you will need to get your car cleaned. This is because when your car is picked up for transport, your car carrier driver will conduct an inspection for pre-existing damage. If your car is dirty this part of the pickup process will still occur, it will just take much longer and you will need to be present for the duration of the process.

You will also need to make sure that you have also removed any personal items from your car at this point. This includes items such as jewelry, phone chargers etc. The reason for this is that none of these items will be covered by the auto transport insurance if they are lost or damaged during the shipment of your vehicle.

Other than that, you will just need to make sure that your car is fully operational, that you have a key available to give your driver, you or whoever will be handing off and/or receiving your car has a valid & unexpired license and that you know who will be handing off and receiving the car (You yourself do not need to be present in order to release and receive your car, anyone with the proper identification who is 18 or older can do so).

Car shipping do's
When you are transporting your vehicle, there are a few things that you will definitely want to do. We highly recommend that you do the following:

Book your shipment with as much notice as possible – When you book your car shipment, you will be given a window of about three days when your car will be delivered. In order to ensure that you get the dates of delivery that you desire, it is highly advisable that you book your shipment as soon as possible. Realistically, you should always aim to book your shipment at least a month in advance in order to get the pickup and drop-off dates that you want.

Make sure that you take the proper steps to prepare for your shipment – As we mentioned earlier, you should always get your car washed, remove any and all personal items, and make sure that you have a valid and non-expired license.

Take pictures of your car before you ship it – It will always serve as an extra layer of insurance for yourself and your car, so, take date-stamped pictures of your vehicle with a digital camera immediately before you ship it.

Ask whatever questions you have when you book your auto transport – If you have any questions regarding your shipment you should ask them when you are on the phone with your car shipping representative.

Be sure that you discuss your pickup and drop-off locations with your auto transport driver – In the vast majority of cases, door-to-door transport is available. However, in a few rare cases, a local street may be too narrow or local ordinances might forbid an auto transport carrier from driving on local streets. If this happens to be the case then you should figure out a near-by location to meet your driver for the pickup/drop-off of your car, such as a mall parking lot.

Car shipping don'ts
There are also several things that you will want to make sure that you avoid when you are shipping your car:

Don't leave personal items in your car – If you leave personal items in your car such as sunglasses or a phone, these things will not be insured by the auto transport coverage that you receive for your shipment if they happen to be lost or damaged in transit. So, we strongly advise you to remove these things from your car before it is picked up for shipping.

Don't have more than a quarter tank of gas if you are shipping the car to Alaska or Hawaii – It is a strictly enforced fire code rule that any vehicles that are transported on a ship cannot have more than a quarter tank of gas in them. This is because of the potential for a fire on the ship if each vehicle has any more fuel. In order to ship your car to Alaska or Hawaii, your car will need to make part of its journey on a ship.

Don't forget to clean the car – It is important to have your car cleaned before your car shipping driver arrives to pick it up. This is so that they can quickly and efficiently check your car for any pre-existing damage. If your car is not clean, the inspection will still take place. It will just take a lot more time and, as we previously mentioned, you will need to be present for all of it.

Don't forget to check the essentials – When we say that the car needs to be in complete working order, we are not just referring to the fact that the engine needs to start. We also mean that the steering/alignment needs to function correctly, the tires must be properly inflated, and whatever else needs to be done in order for the auto transport driver to be able to drive your car on and off the car shipping carrier.

Don't use a company that does not offer an instant quote – A reputable car shipping company will offer free and instant quotes online. If you realize that a car shipping company has a website that does not offer instant quotes, then you should not trust that particular company.

Final word
There are several things for you to remember to do and not to do when you are shipping a car. They are simple and the process of shipping a car is really quite simple as well. It really comes down to remembering to book early, not leaving personal items in your car, making sure that your car is prepared for shipping and knowing exactly when and where your car will be and dropped off. If you are ready to ship your car right now, you can start with a free quote.